While other popular open source programming languages allow anyone to download the main user IDE with no strings attached, JuliaComputing requires those interested in the language interface to register on the website. This is a very risky technique, that can either have great results or backfire greatly.
Started in 2012 and officially released in mid-2018, Julia is a fledgling programming language. One of the main obstacles that Julia has to overcome in order to overtake the leading data science programming language today is to develop a large library of packages. Packages are necessary in order to facilitate coding and to make it more accessible to more people. The easiest way to get all of those new packages is to have a large developer community. Python knew this and has today one of the largest and most passionate programming communities.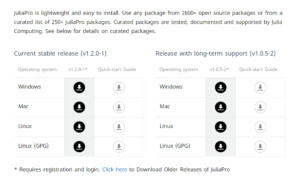 Judging by JuliaSoftware's homepage, it seems like one of the ways that Julia is trying to build its community is by requiring those who would like to download the software to register on the website. In this way, the organisation will be able to build up their contact base and will be able to use their emails to send periodic emails to evangelize their base.
This technique is quite dangerous, however, as it creates a barrier of adoption for those people who are not entirely convinced about trying out the new language. It creates an obstacle for those people and may result in lower adoption rates. On the other hand, this extra step could also weed out those who are not sold on the new language in order to focus on a community that is more convinced and more invested in helping push the project further.
In any case, I'm curious to see how this technique works out and what the future holds for Julia. Have you downloaded the language ? Did you download the JuliaComputing IDE ? Did the extra registration process create some hesitation ?