Whether a fad or a trend, social media typically suffers the safe fate. Beginning with AOL Instant Messenger and MySpace, social media platforms experience an initial burst of popularity. Once a couple years go by and the initial generation of users is mostly online, the parental generation starts to "get hip". Unfortunately, parental generation always spells death for the social media by making it "uncool". Over the past couple years, Facebook has experienced a rise in the parental generation going only. Thus, it has been struggling to stay relevant.
In 2012, Facebook made a good decision to buy Instagram, from a market share point of view. By making it super easy for Instagram photos to be posted on Facebook, the company managed to keep its existing audience of the now twenty year olds. It also managed to gain the tweens and teens, otherwise known as the new social media audience. This merge between the two social media platforms makes it easy for users to keep their old Facebook account while concentrating on rebuilding their profile on the Instagram account, where the parental generation is not yet present. Snapchat, however, is not going down without a fight.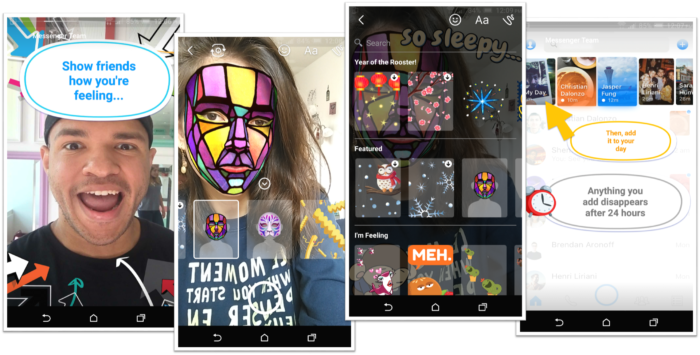 Since Snapchat refused Facebook's bid to buy the company in late 2014, Facebook has been doing everything in it's power to make the company obsolete. With the failure of several new apps such as Facebook Poke and Facebook Slingshot designed to compete directly with Snapchat, the company turned to implementing Snapchat features into its existing products. About six months ago, it added Instagram Stories to the app which is essentially identical to Snapchat Stories without the filters. How is this allowed? Well, stories is too descriptive a name to be trademarked and as long as Instagram didn't use Snapchat's code, it's all fair game. Facebook then took it a step further in September 2016 by adding My Day to Messenger. Here, in addition to the stories, Messenger allowed users to take pictures with funky filters and either post it to My Day or send it to their friends.
Why is Facebook so desperate to copy Snapchat?
According to Business Insider, Snapchat has taken only 4 years to reach a revenue of 300 million. In comparison, its competitors Facebook and Instagram took about 5 and 6 years, respectively. Facebook is most likely worried that with Snapchat's superior momentum, it will end up surpassing Facebook and making it out-dated just as Facebook did to MySpace a couple years. Copying Snapchat however does not seem like the right path in my opinion. It just looks like the company is trying too hard. Instead of being a follower, Facebook would fare better by creating something unique. I know, easily said then done.
Honestly though, while Messenger My Day may entertain me for about 15 minutes, I would never use it seriously. If anything, it clutters my screen and makes me regret choosing Messenger as my main texting app. What do you think? Do Instagram Stories or Messenger My Day make you want to quit using Snapchat? Or is it more the other way around?